C-weight paper backing holds up during jobs such as rough feather-edging
Aluminum oxide abrasive combines fast cut with long disc life
Hookit™ disc is easy to change and reuse, maximizing utility for the life of the disc
Open coat construction provides a more aggressive cut and minimizes dust
Load-resistant coating prevents dust and debris from clogging the disc
Several versions feature 6-hole pattern for effective dust evacuation
Our 3M™ Hookit™ Gold Disc 236U is precision-coated for long life during auto body sanding projects requiring moderately coarse grit abrasives. Open coat aluminum oxide abrasive and C-weight paper backing provide durability and a long-lasting cut for rough feather-edging or shaping plastic filler and putty. Load-resistant coating and available 6-hole pattern provide superior dust resistance.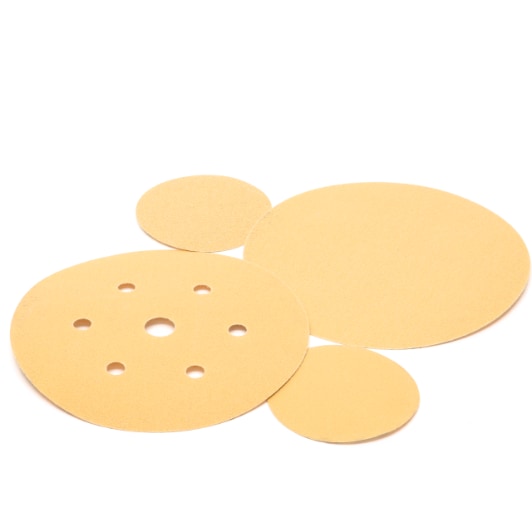 Discs are available in a variety of sizes and grits both with and without holes
Fine Results for Medium-Coarse Sanding

A grade range from P80 to P180 along with durable C-weight paper backing make our 3M™ Hookit™ Gold Disc 236U (PDF, 4.14 Mb) ideal for auto body sanding projects including rough feather-edging, scratch refinement on bare metal, paint removal around damaged areas and more. With its open coat construction and aluminum oxide mineral abrasive, it provides a sharp cut — more aggressive than a comparable closed coat abrasive of the same grade — without dust accumulating on the disc. The Hookit™ Gold Disc 236U is available in 3- or 6-inch diameter sizes for substrates including clear coat, fiberglass, filler, metal, paint, plastic and putty.
Resists Dust and Debris

Open coat construction means the abrasive grains on our 3M™ Hookit™ Gold Disc 236U are placed with space between them to help evacuate sanding dust and other debris to avoid clogging the cutting edge of the grains. The load-resistant coating on the abrasive grains also allows the disc to continue cutting even when sanding paints, fillers, putties and other materials that would otherwise clog the disc and hinder sanding ability. All of this adds up to increased productivity and reduced material consumption.
The 6-hole pattern on select versions of 3M™ Hookit™ Gold Disc 236U facilitates dust evacuation, especially when used with a vacuum system. This design doesn't even require alignment of holes with the disc pad, making disc changes quick and simple.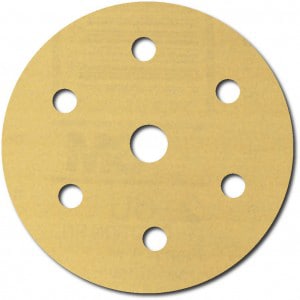 7-hole pattern on select versions facilitates dust evacuation
About Aluminum Oxide Abrasive

Aluminum oxide is popular among industrial professionals because of its fast cut-rate and long life. This mineral makes a tough, durable abrasive that self-fractures to expose fresh cutting edges, whereas traditional natural abrasives dull more quickly. Due to its fast cut-rate, hardness, and strength, it is widely used in grinding applications in addition to sanding and finishing applications. Aluminum oxide is suitable for a wide variety of materials in metalworking, including ferrous alloys, for auto body applications.
About Our Hookit™ Attachment System

3M offers a complete line of hook-and-loop style Hookit™ discs for work spaces where adhesive backed discs may become contaminated by dust, dirt, or flying debris. Hookit™ sanding discs conveniently and firmly attach to a hook-and-loop backup disc pad (sold separately) on a random orbital sander, can be removed cleanly and easily, and can be re-used again and again for the extent of the abrasive life.
Durable from Front to Back

Through a combination of science and strength — from the grain to the back-up disc pad attachment — our 3M™ Hookit™ Gold Disc 236U delivers long disc life, consistently sharp cut and superior dust resistance for better auto body operations.