Cubitron™ II cuts 30% faster and lasts 2x longer than other premium abrasives
Hookit™ hook-and-loop style abrasive attaches firmly, removes quickly for fast change-out
Precision Shaped Grain (PSG) technology employs microreplication for extremely uniform abrasive
Triangular PSG abrasive grains are super-sharp and cut exceptionally fast
PSG self-fractures during use to maintain sharpness and prolong abrasive life
Sharper cutting surface means less pressure is required for reduced friction and wear
Grains are electrostatically oriented on abrasive surface for efficient cut, even wear
Dust-free versions available
Our 3M™ Cubitron™ II Hookit™ File Sheets 737U combines the highest 3M technology for automotive repair. Its long-lasting triangular shaped grains make the sheet ideal for paint stripping, rough shaping of body filler and sanding plastic filler. Our Hookit™ system makes for quick change-outs of abrasive sheets.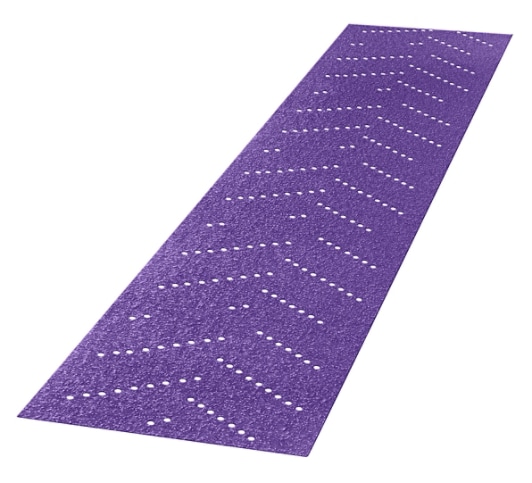 Kiss-cut scoring technology allows for use in multiple sheet lengths
We developed our 3M™ Cubitron™ II Hookit™ File Sheets 737U for superior cut and long life during key stages in auto body repair. It features 3M™ Precision-Shaped Grain technology — triangular-shaped, electrostatically oriented grains form sharp peaks, each acting like an individual cutting tool that slices through paint and body filler. This grain cuts 30% faster than conventional ceramic abrasives. This abrasive is ideal for stripping paint to metal, shaping and sanding plastic filler, scuff sanding before painting, removing dust nibs and reducing excess orange peel. Individual edges in the shaped grain also self-fracture to continually present a sharp cutting surface, making the cut more consistent and prolonging the life of the abrasive. Files sheets are available in both no-holes and dust-free versions.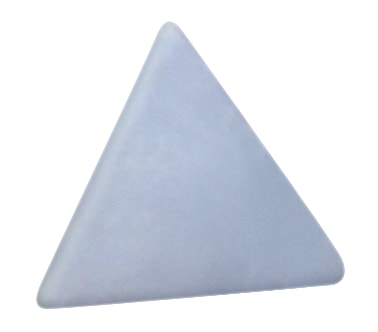 Close-up of Precision-Shaped Grain, geometrically-engineered for even wear
About 3M™ Cubitron™ II and Precision-Shaped Grain
3M™ Cubitron™ II abrasive discs, file sheets and sheet rolls have raised the bar for high-performing abrasives. Cubitron™ abrasives feature our Precision-Shaped Grain (PSG) technology, which allows our engineers to control the geometry of the abrasive grain for a truly fast, efficient cut. Instead of simply crushing the abrasive into particles, 3M uses microreplication to create uniformly sized ceramic grains and precisely shape them into triangular structures — essentially, sharp peaks that slice, not plow, through paint and metal. These grains are electrostatically oriented on the abrasive surface and blended with an aluminum oxide mineral for the most efficient cut and even wear. What's more, PSG fractures during use to maintain sharp abrasive edges. The result: Cubitron™ II cuts 30% faster and lasts 2x longer than conventional ceramic abrasives.
About Hookit™
3M offers a complete range of hook-and-loop style Hookit™ abrasives for work spaces where adhesive backed products may become contaminated by dust, dirt, or flying debris. They are often used in applications where an adhesive backed sheet may be too aggressive, as Hookit™ abrasives tend to leave finer finishes. Hookit™ sanding abrasives conveniently and firmly attach to a hook-and-loop backup pad (sold separately), can be removed cleanly and easily, and can be re-used again and again for the extent of the abrasive life.
About 3M™ Clean Sanding
The multi-hole pattern on Hookit™ File Sheets 737U significantly increases cut-rate and abrasive life. We have placed hundreds of small holes in a chevron formation to facilitate efficient dust extraction. Our unique kiss-cut scoring technology makes it easy to select whatever sheet length is best for the project.