Spray-on coating applies conveniently with conventional spray equipment
Designed to protect paint booth walls, windows, lights and fixtures for optimal lighting and paint booth cleanliness
Excellent solvent resistance for protection against paint and primer overspray
Washes off with water
Non-tacky formula resists dirt and discoloration
Dries quickly to a clear film that won't smear or smudge
3M™ Booth Coating is a water-based solution for protecting paint booth walls from paint overspray. Simply apply 1 to 2 medium wet coats with any 2.0 spray nozzle, such as the Accuspray™ 2.0 disposable spray nozzle. 3M™ Booth Coating dries to a clear film across fittings, walls and windows. The non-tacky formula won't discolor from dust or dirt, and removes cleanly with water.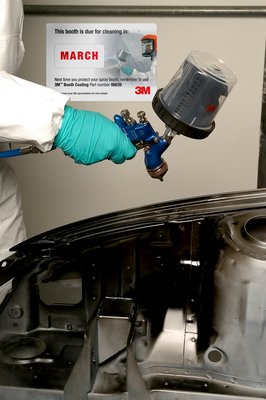 Specifically designed to protect paint booth walls, lights
A Spray-On Coating for Fast, Convenient Paint Booth Protection

3M™ Booth Coating is an easy to use, clear spray-on protective coating that helps you protect your paint booths. This non-tacky, liquid-based coating sprays on with conventional spray equipment such as the Accuspray™ 2.0 disposable spray nozzle to cover every vital part of your paint booth including windows, walls, lights and fixtures. It dries to a clear, clean film that won't smudge or smear, and resists solvents to protect your paint booth from paint and primer overspray. When it's time to clean the booth, you can simply wash off 3M™ Booth Coating quickly and cleanly with water.
The Science of Staying Clean from 3M

Our 3M™ Booth Coating showcases how solid science can help collision repair professionals maintain clean, well-lit paint booths — and maintain excellence in your overall operations. Engineered by 3M specifically to protect paint booth surfaces from paint and primer overspray, it's another great example of what 3M does best: Science. Applied to Life.™
View More Masking Products in the 3M™ Automotive Aftermarket Catalog (PDF, 69 Mb)