Soft foam construction conforms to contours for a finer finish
Adds support to disc pad for improved abrasive cut and closer edge sanding
Applies effortlessly between Hookit™ discs and Hookit™ back-up pads for quick changeouts
Hole configurations help clear dust from the work surface, increasing disc life
Reduces vibration from orbital sanding tool for improved results
Our soft density foam 3M™ Hookit™ Soft Interface Pad adds cushion and conformability to our Hookit™ back-up pads for auto body sanding applications requiring precision across uneven surfaces. It increases abrasive cut and enables more consistent contact of abrasive discs around surface contours, plus the pad allows closer sanding to edges for smoother, more refined finishes.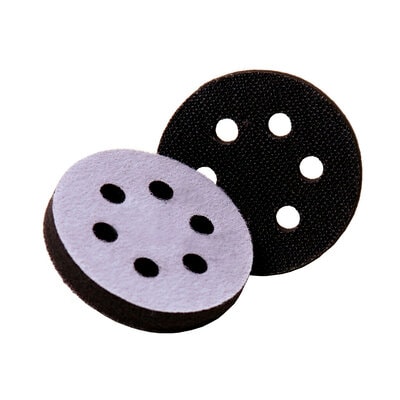 3M™ Hookit™ Soft Interface Pad, 3 Inch, 05771
Extra Cushion for Precision Sanding

Used between a 3M™ Hookit™ Back-Up Pad and a 3M™ Hookit™ Abrasive Disc, our 3M™ Hookit™ Soft Interface Pad maximizes cushion and conformability during the auto body sanding process. The pad features soft yet durable 1/2-inch foam construction that allows technicians to maintain consistent abrasive contact when following contours and to sand closer to edges with the reduced chance of burning through. It also reduces the vibration common when using a dual action orbital sander, increasing the clarity of the finish.
The pad contains a pattern of uniquely designed holes which equalize air flow providing outstanding air distribution across the entire disc. This allows dust to be pulled through and away from the disc and the sanding surface, improving the work environment and prolonging disc life.
Our Hookit™ Attachment System

Hook-and-loop style 3M™ Hookit™ Soft Interface Pads work as part of our Hookit™ system, which is ideal for work spaces where adhesive backed discs may become contaminated by dust, dirt, or flying debris. They are often used in applications favoring Hookit™ discs, which tend to leave finer finishes. The soft interface pad conveniently and firmly attaches between a hook-and-loop backup disc pad and an abrasive disc (sold separately) on a random orbital sander. It be removed cleanly and easily, and be used again and again.
Extra Support for Superior Auto Body Sanding

3M™ Hookit™ Soft Interface Pads are another way that 3M adds to the science of successful automotive aftermarket operations. We have carefully developed these pads to perform during the collision repair sanding process, from improved airflow across the disc to better conformability to reduced vibration. Along with the quick-change attachment system, these pads provide superior support for your most effective sanding and professional, precise results.